Dressing for snowmobiling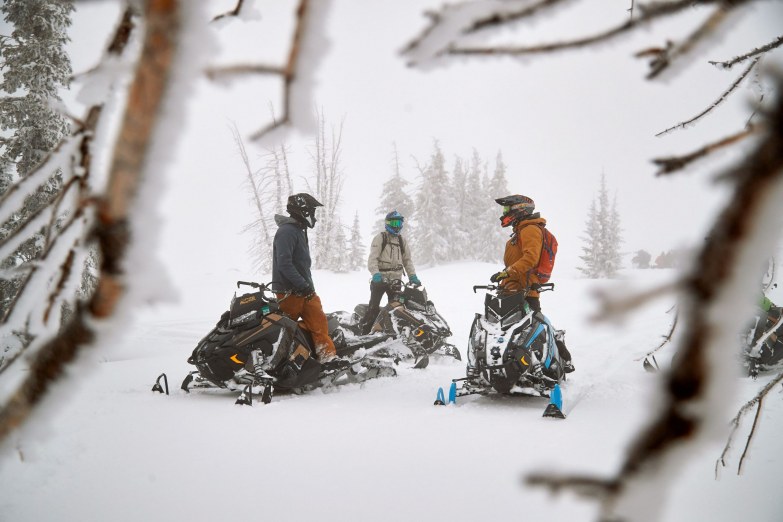 Snowmobiling is fun, I bet we can all agree on that! There are few things to keep in mind though, before heading out on this exciting snow adventure. One of the keys to enjoy snowmobiling is staying dry, warm, and safe. Let's talk about dressing for snowmobiling!
We often get this question from our customers: "How should we dress?"
Although the cold winter breeze is part of what makes snowmobiling exciting, overexposure to it will rob you of your body's warmth. Layering is the best way to avoid the cold that can take the pleasure out of snowmobiling. So let's talk about layering first…
Your base layer rests against your skin. While providing minimal insulation, its primary purpose is to move moisture out. So your long underwear needs to be light, quick drying and moisture wicking. Synthetic fibers are most popular, like nylon and polyester. 
Your mid layer provides heat retention by trapping warm air as insulation. This is usually a mid-weight layer (or two, depending on the temperature) possibly followed by a heavier one. Wool and fleece are great choices here! 
Remember, avoid cotton fabrics in all of your layering garments! Cotton absorbs and holds moisture, and provides poor insulation. So no T-shirts, sweat pants or jeans!
Your exterior layer retains inner warmth and prevents external cold from entering. It should be waterproof (not just water-resistant), breathable (releases moisture) and windproof (protection against wind chill), such as Gortex™. A great idea is also to have a jacket with multiple vents for flexible inner climate control. Make sure it's large enough to go over your other layers without being snug. The same goes for for snow pants, bibs and one-piece suits.
How about your head? While riding, you may want a balaclava under your full-face helmet, the best choice for keeping your head and face warm. Since an uncovered head acts like a chimney for heat loss, keep a hat with you for when you stop for a break!
If your helmet does not have face shield, wear goggles with colored lenses for bright days to prevent snow blindness. Amber, yellow, rose, blue or other colored lenses can be very useful during cloudy days, or other 'flat light' times. Clear lenses are essential for riding after dark.
Our snowmobiles have heated hand grips, however, warm and waterproof gloves/mittens are a must! Ensure that the gloves you put on are neither too loose nor too tight so that you can steer your snowmobile easily.
Don't forget about warm socks! Sometimes 2 layers might be a good idea (wool is great!). And definitely insulated, waterproof boots! We also recommend to carry extra hand and toe warmers, just in case.
Dressing for snowmobiling is very important, but remember that your day starts with fueling your body as well! Eating well and staying hydrated all day with water, juice or energy drinks is very important.
Drink plenty of water in the course of snowmobiling. Water helps your body to function at its peak, making a process such as temperature regulation to peak as well. If your body loses too much water, your internal temperature will drop.
Do you love coffee? Drink coffee before you start zooming across snow and ice! The caffeine in coffee will increase your metabolism. More metabolism means higher body temperature. 
Eat complex carbohydrates and whole grains. Complex carbohydrates and whole grains break down with a high amount of energy. As a result of that they increase the metabolism in your body. This increased metabolism will increase your body heat.
And one last tip: carry a "half empty backpack"  – to make it more convenient to add or remove layers and provide energy snacks and drinks on the trail. 
Now you are ready to go snowmobiling!