Thanks for a great snowmobile season!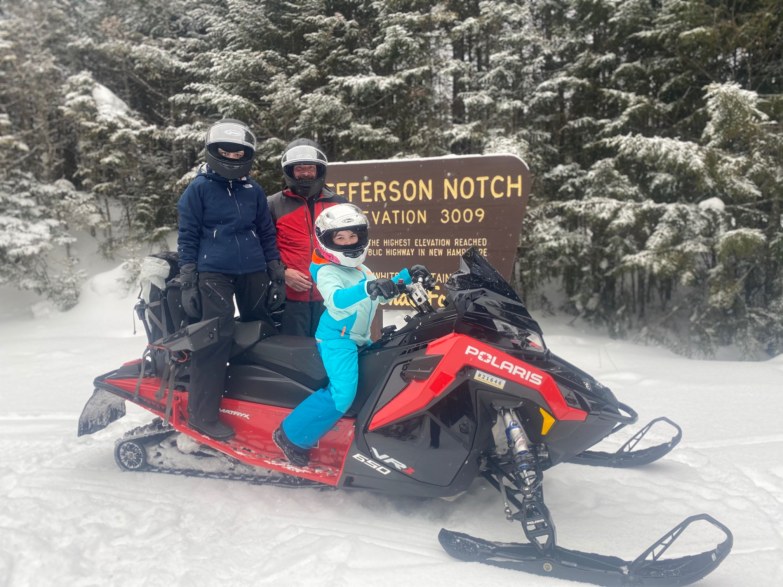 Although we had a late start, we were able to have a great snowmobile season and successfully  ran both our Gorham, NH and Fryeburg, ME locations.
For some of us enjoying a wintery day means to sit inside by the fireplace and gaze out the window…for others, it is something totally different. Not that there is anything wrong with a relaxing time by the fire, we love that part too, but prefer it after a nice day outside:)  Just like our customers, we like to get outdoors, grab a helmet and conquer the snowy terrain as we zoom along on snowmobiles.
Like hiking, biking and fishing, snowmobiling has seen a huge boost in popularity as people have turned to outdoor activities during the pandemic. Although our season ended a little early in our Fryeburg, ME location (due to the warmer weather and lack of snow), our customers were able to enjoy trails in Gorham, NH through the rest of the winter. Even with all the Covid-19 restrictions, we had a wonderful season with many happy faces! Groups of friends, families riding together, as well as groups of coworkers on "company after hours" tours! We are thankful for all of you! Here are few pictures of our customers having fun in the snow.
The earth is such a beautiful place. We are so grateful that we are able to get out and enjoy the beautiful world around us, because there is so much to see!
We would like to thank all those that made this season happen here at Northeast Snowmobile! Our wonderful customers, for complying with and respecting our safety policy, and of course for riding with us and having fun; our amazing employees – thanks to your hard work, flexibility and dedication, we were able to run smooth operations and make many customers happy! We would like to thank all volunteers from the Trail Clubs, who spent their time making the trails ridable, as well as landowners, because without them, the trail system would not exist!
Snowmobile season has ended, spring is in the air and we are excited to start our UTV/ATV season very soon! We have couple new "additions" coming in to Northeast Snowmobile & ATV this season! We will share more news with you soon! Tune in, subscribe to our newsletter and we hope to see you having more adventures with us!